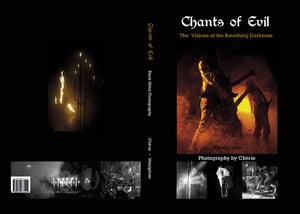 €

34.00
Chants of Evil, The Visions of the Breathing Darkness - a Photo Book on the Art of Black Metal is the first book on the current generation ("Third Wave") of Black Metal from the twenty-first century and contains many beautiful live concert photos, taken by the Dutch photographer Chérie.
The book describes and shows how Black Metal, originating in the 1980's, has spread from Norway all over the world. English texts, matching the photo's, were written by the portrayed artists and by internationally renown connoisseurs of the genre. The texts focus on the development of Black Metal in their most important sources: the three Scandinavian Countries, Germany, France and Canada/USA.
The book contains unique concert photos of more than 60 Black Metal bands from around the world.
The pictures were taken from 2008 - 2011 on famous summer festivals in Europe like Metalfest Austria, PartySan OA, SWR Barroselas, Under the Black Sun, Wacken OA, but also in dark underground concert venues, from Finland to Portugal and especially many in the Netherlands, Belgium and Germany.
Photography on the North American continent was done by Chris Slack (Gravemusic, Seattle).
"Chants of Evil" contains photo's of the following Black Metal bands: Angantyr, Baptism, Behemoth, Belphegor, Celestial Bloodshed, Chaos Invocation, Cirith Gorgor, Coldborn, Dark Fortress, Darkened Nocturn Slaughtercult, Desaster, Dodenkrocht, Destroyer 666, Endstille, Enslaved, Glorior Belli, Gorgoroth, Hell Militia, Horned Almighty, Immortal, Impiety, Infernal Majesty, Inquisition, Irrlycht, Kampfar, Malhkebre, Mare, Marduk, Massemord, Mayhem, Monarque, Nachtmystium, Naer Mataron, Nargaroth, Nëhemah, Ondskapt, Orcivus, Paragon Belial, Primordial, Rotting Christ, Sargeist, Satyricon, Sarkom, Satanic Warmaster, Saturnian Mist, Setherial, Shining, Sólstafir, Supplicium, Svarttjern, Taake, Teratism, Throne of Katarsis, Triptykon, Urfaust, Urgehal, Venom, Watain, Wolves in the Throneroom.
It's a perfect gift for Metalheads' birthdays etc.
"With explanatory texts and striking quotes, this Art Photo Book is a travelling companion to the realm of contemporary Black Metal."
"This book was made by Black Metalheads fór Black Metalheads"
Book Details:
Chants of Evil, First Limited edition, 2011
Author: Cherie, Metalphoto
EAN / ISBN: 9789081673419
The book is produced as a full color A4 hardcover. It contains 96 pages of 135 grams deluxe paper.
Weight: 700 g (25 oz)
Digital preview of the book:
http://www.metalphoto.org/Templates/Chants%20of%20Evil_Preview.pdf
YouTube promo video for the book: http://youtu.be/9hOaFn0axxo
We ship internationally by Priority Mail/ Air Mail. Please allow up to 10 days delivery time outside EU.
Customers outside EU: Please note that any applicable local taxes or customs fees are NOT included and may have to be payed by you to your local authorities upon receipt of the shipment.
With this Special Offer you receive a folded, full color B2-format poster of the book, signed by the photographer.